An Ohio Whig family with roots in the South, the Ewings influenced the course of the Midwest for more than fifty years. Patriarch Thomas Ewing Sr., a former Whig senator and cabinet member for two different Whig Presidents, was the pre-eminent real estate lawyer of the era and the Old Salt Boiler raised four major players in the nation's 19th Century history—including William Tecumseh "Cump" Sherman, who was taken into the Ewing family as a shy nine-year-old, and who went on to marry his foster sister, Eleanor "Ellen" Ewing. 
Ronald D. Smith now tells the wider story of this extraordinary clan that played a role on the national stage through the illustrious career of one of the sons and Sherman's brother in law, Thomas Ewing Jr.
In Thomas Ewing Jr.: Frontier Lawyer and Civil War General, Smith introduces us to Ewing, a remarkable 19th century politician and attorney in his own right.  First as a real estate lawyer, judge, and speculator in Kansas, he helped form and promote the Free State party.  Then as a general in the Union army and a post-war figure in national Democratic and Greenback politics, he had enormous impact on national politics.
Smith takes readers back to Bleeding Kansas, with its border ruffians and land speculators, reconstructing the rough-and-tumble of its courtrooms to demonstrate that Bleeding Kansas was as much about claim-jumping as about slavery. He describes the seat-of-the-pants law practice in which Ewing worked with his brothers Hugh, brother in law Cump Sherman, and Dan McCook. He then tells how Tom came to national prominence in the fight over the pro-slavery Lecompton Constitution, was instrumental in starting up the Union Pacific Railroad, and became the first chief justice of the Kansas Supreme Court.
Ewing obtained a commission in the Union Army and raised a regiment of infantry, later mounted, that saw significant action in Kansas, Arkansas and Missouri.  After William Quantrill's raid on Lawrence, Kansas, as the Western Missouri district commanding general, he issued the dramatic General Order No. 11 that expelled residents from four counties in western Missouri into Arkansas, an event as Smith describes it, "the most aggressive nonracial civilian relocation order in American history."  Then this confidant of Abraham Lincoln's went on to lead an outnumbered band of Union artillery and infantry at Fort Davidson in 1864, a key battle in Southeast Missouri that Smith shows perhaps saved Lincoln's 1864 presidential reelection.  After the assassination, Tom Ewing courageously defended three of the assassination conspirators—including the disingenuous Dr. Samuel Mudd—in the War Department's elaborate show trial.  Ewing did so because of how Secretary of War Edwin Stanton had treated Ewing's brother in law, Cump Sherman, badly in the press during Sherman's surrender negotiations with Joe Johnston.  In 1868 Ewing again clashed with Stanton, lobbying the key vote to block the impeachment of Andrew Johnson.
Smith examines Ewing's life in meticulous detail, mining family correspondence for informative quotes and digging deep into legal records to portray lawmaking on the frontier. Many books have been written about Sherman, but this book fills the gaps in an interlocking family of remarkable people—one that helped shape a nation's development in its courtrooms and business suites. Thomas Ewing Jr.: Frontier Lawyer and Civil War General retells a chapter of Kansas and American history and opens up a panoramic view of antebellum America, the Civil War, Reconstruction, and the Gilded Age that followed.
Publisher : 

University of Missouri; 1st edition (September 28, 2018)

Language : 

English

Paperback : 

400 pages

ISBN-10 : 

0826221793

ISBN-13 : 

978-0826221797

Reading age : 

18 years and up

Item Weight : 

1.45 pounds

Dimensions : 

6.1 x 1.2 x 9.2 inches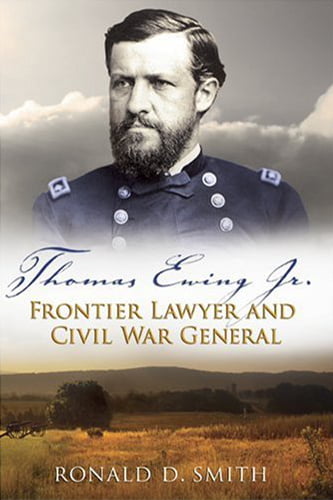 listen as you read
Amazon Reviewer
This outstanding book is not only historical, educational and accurate; it is written with an underlying sence of humor and sensitivity that brings the story to life. This makes the book read smoothly, like a novel. But you aren't getting just fiction.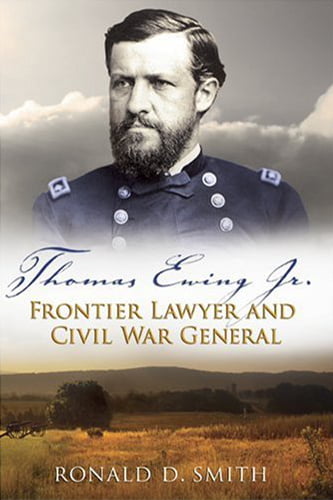 The author writes well
The NYMAS Review
"The author writes well, making for an easy read, while managing to cover complex family relationships, religious issues, political matters, and, of course, wartime events."