About Dean Halliday Smith
Dean Halliday Smith, *PN, is a fifth generation Kansan, an attorney, a grandfather several times over, a Vietnam veteran, and a civil war historian. Territorial Kansas, the Civil War, and the post-Civil War west are his subjects of interest. 
Smith is a partner in the Larned, Kansas, law firm of Smith, Burnett & Hagerman, LLC, and lives close to historic Ft. Larned, one of the best-preserved frontier cavalry forts in the National Park system. His law office is located near where the historic Santa Fe Trail converged on the "Pawnee Fork" along the wet route of the SFT.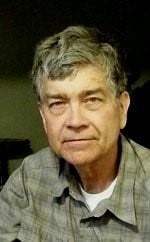 A native of Manhattan, Kansas, in 1969, while in the Navy, he was originally assigned as a machine gunner on a river patrol boat (PBR) with River Flotilla One in the Mekong River delta (Dong Tam).  After six weeks on the boats, he finished his year of service in Vietnam as a Navy photojournalist and DJ at the AFVN radio station in Saigon.  In the top row, 3rd from right, is Pat Sajak of Wheel of Fortune fame. Pat served two tours in Vietnam at AFVN-Saigon, replacing Adrian Cronauer, about whom the movie Good Morning, Vietnam was loosely based.
He graduated from Kansas Wesleyan in 1973 with a history degree and Washburn Law School in 1976. After practicing law in Great Bend, Kansas, he then returned to Topeka, Kansas, as Deputy Secretary of Administration for Governor John Carlin, and then for 20 years lobbied for various commercial interests in the Kansas legislature.  From 1985 to 1999 he was general counsel of the Kansas Bar Association.  Prior to joining the Larned law firm in 2005, he served as counsel for the Community Development division of the Kansas Department of Commerce. 
In 2007, Ron made a presentation to the Kansas City Civil War Roundtable on the topic of the 1864 battle of Pilot Knob, Missouri, and how that obscure Union victory might have saved Lincoln's presidency.   See the Press section. 
Several times he has been interviewed on his biography of Gen. Thomas Ewing Jr.  See the audio links.